Is Your Business the Best?
You can be the very best in your industry; use the highest quality products and provide exceptional customer service to every client, but does all of that matter at all if your Google Reviews don't show it?
There is a saying in Digital Marketing that Google is King (and Facebook is Queen).
When it comes to Google, digital marketers are constantly adapting their strategies to meet Google's rules. Here are a few tips for managing Google Reviews from our Google Business experts.
Be the Best
If you want to be included in results for the "best ________ near me", Google Search automatically filters out businesses with ratings below 4.0 stars.
Ideally businesses should strive for a Google Business Rating between 4.5-4.7 to stand out from the competition. As your rating drops below 4.5, potential customers begin to lose confidence in your business. Conversely, if you have only 5 star ratings customers may be skeptical that the reviews are genuine.

Three Important Strategies
The three key factors for analyzing your Google Reviews:
1. Number of reviews
2. Star rating
3. Freshness, or age, of reviews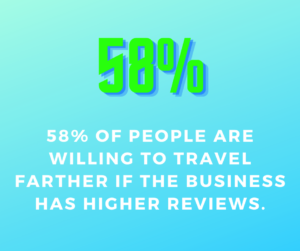 Increase Reviews & Keep It Fresh
Recent reviews have a bigger impact on Google's Algorithm for SEO. If your last review was 2 years ago, it doesn't inspire confidence for someone looking to try you for the first time. Implementing a program for requesting reviews after the completion of each transaction, will help increase the number of reviews. It will also keep fresh reviews flowing in.
Quick Tips:
Get professional help: 94% of local businesses say a Reputation Management company pays for itself with the ROI it gets based on the cost of a program.
Leverage a text messaging service. 36% of customers have left a review after receiving a text message request.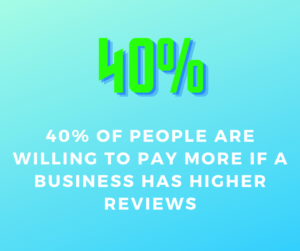 Raise Your Ratings
Use a message like this one to request reviews. Print it on your receipts or send as a follow-up email or text.
"Please leave us a 5-star review. Anything less than 5 stars hurts our rankings. If you don't feel we deserve 5 stars, we kindly ask that you contact us directly. We sincerely appreciate the chance to make things right."
Educating the customer in the request can make the difference between receiving 4 stars and receiving 5 stars.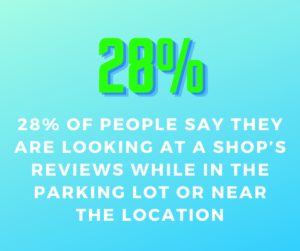 Above and Beyond
Google Reviews are just one portion of the Google suite of products that affect your search rankings.
If you really want to go above and beyond, add photos of your business to your Google Business Listing.
Photos of your products, staff, customers, and the interior and exterior of the building, help convey a richer experience to potential clients. Google business is the place to post anything that helps the customer see how great it is doing business with you – especially since 87% of website traffic come through a Google search.
Bonus Question: What about Yelp?
Our clients sometimes ask about the importance of Yelp or other review sites. These are really hit or miss depending on the industry and the region.
Yelp, for example, might be useful for restaurants but it is very difficult to get reviews and when you do get them, Yelp decides which reviews to display. To get better reviews and ratings, Yelp requires you to use their help which is costly.
Since most search traffic goes through Google  we recommend focusing marketing efforts there.
---
ASK FOR HELP
If all this is new to you and you need some coaching, please feel free to contact us. Or, if you know you need to be doing more with your digital marketing but it's just one more thing you don't have time for, we can do it for you.
Website
Facebook
Google Ads
Email Marketing
CRM
Business Listing Management
Review Response
HAPPY TO HELP.
The PISTN Team is always here to help you with your marketing strategy. Please contact us with questions.
[email protected]
800-742-4511
WWW.PISTN.COM