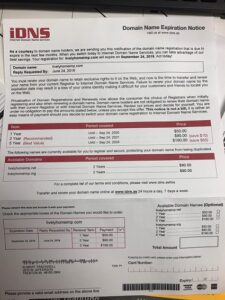 One of our clients recently received a letter in the mail that caused some concern.
It was a notice of from a web-hosting company informing them that their domain name was about to expire and informing them that they would have to provide quick payment in order to keep it up and running on the web.
The problems? It was from a different web hosting company, had the expiration date wrong -- and the fee was more than three times what they had paid for their legitimate web hosting server.
We quickly determined it was a scam and the issue was put to rest, no harm, no foul as they say.
The web hosting industry is generally a well-respected one, with many businesses providing top notch service. It's worth noting, though, that there are less-than-reputable companies out there that will try to take advantage of unsuspecting small business owners.
Here are some ways to spot a potential scam:
Watch the delivery. Chances are, a expiration notice for your web hosting service will not come in the mail.
Check the company. Make sure you know who the notice is coming from. Even if you farm out your social media, blogs or web sites to another company. you should know the basic details of where it's being hosted.
Watch for suspicious pricing. This "alert" raised eyebrows because of its expense, but offers that are deceptively low should be thoroughly examined, too. You get what you pay for.
Examine the details. This can be a little tricky because the general information you want to check is relatively easy to come by: your domain name, business address, business owner's name, perhaps even the day you signed up for your original web hosting company. Chances are, however, if the notice--whatever form it comes in--did not originate from your web hosting company, it's from a different firm trying to get your business, either ethically or unethically.
Web hosting services are like any other ones out there. They are usually reliable, but there are a few bad apples that will aim to spoil the bunch and move you away from your tried and true methods. Pay attention to the details of these kinds of notices and, If you have any doubts, contact your web hosting service and have them put to rest.
What do you think? Has this happened to you? Let us know in the comments!