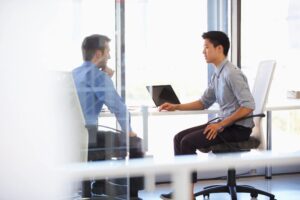 A Bad Rep Can Cause Hiring Woes
If your business has a bad reputation, you already know it will cost you lost sales and new customers.
It could have another affect, too, that will also hurt your bottom line: it could make it more difficult for you to hire qualified people. If you're having a hard time finding and keeping top talent, your online reputation may be to blame.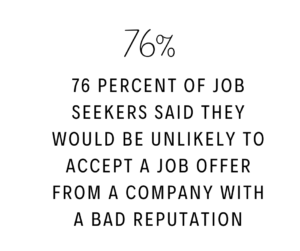 In today's competitive job marketplace, the reputation of a business matters just as much—if not more so—than what you can offer to a prospective employee. Corporate Responsibility Magazine conducted a survey that showed:
About 76 percent of job seekers said they would be unlikely to accept a job offer from a company with a bad reputation—even if they were unemployed.
Of those who said they would take the job, about half said they'd need more money to do it.
Conversely, 93 percent of people who were employed said they'd leave their job to work with a company with a better reputation.
So, if your business has a bad reputation, not only are you less likely to get top talent, you're more likely to lose the good people you have and pay more for their replacements.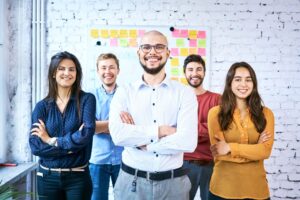 3 Tips to Help You Manage Your Reputation
That's why managing your reputation and providing good customer service is so important. Here are a few tips to help you manage your reputation:
Deal with it. If you see negative reviews, respond to them right away. Not only will this allow you to improve your reputation, it shows that you care about what people say. If you leave negative comments unanswered, job seekers may think you don't care what your customers think of you, and assume you won't care about them, either.
Let your people speak.

You can defend your business all day long (and you should) but sometimes, that defense will sound better coming from your staff. Let them share stories about the good work that they do. Allowing your employees and customers to tell their stories and share experiences is your best strategy for showing a genuine, positive perspective on your business.

Use social media. Social media is the best way there is to boost your reputation. It allows you to interact, directly and publicly, with your customers.
---
TUFFY CONFERENCE REMINDER!
Cape Coral, Florida -- February 23- 25!
For those attending the Tuffy Conference in Cape Coral February 23-25, PISTn will be hosting two breakout sessions.  Come see us to learn more about our NEW Text Message Service Reminder Program as well as our other NEW 2022 digital offering: Geo fence Marketing.