If you've tried to schedule a post for your Facebook business page lately, you've noticed that the process has changed.
For a while, it was unclear how--or if--you were still able to do it, or if scheduling posts had become part of Facebook's 'pay-to-play' policy--that is, a feature that was once free but you now have to pay for.
Fear not, scheduling posts for your business page is still a regular, free option, it's just a bit more complicated than it was only a few short weeks ago.
Here's how to do it:
Go to your page and click 'write a post,' as usual
Once you've created your content, go to 'save as draft'
Then, go into your publishing tools
Scroll down to 'drafts'
Click on the draft post that you want to schedule
Click on the 'options' tab
You'll see the 'schedule' option from there and can choose when you want your post to appear.
If you're scheduling posts a week or a month ahead of time, we suggest you save them all as drafts, first, and then go into the publishing tools to schedule them. It will save you a bit of time over going through the process for each individual post.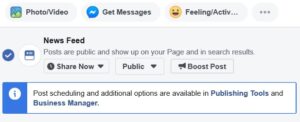 It's unclear why Facebook made the change to turn a simple, two step process into a seven-step process but it clearly wasn't popular with the majority of users. They received so much negative feedback that developers created an information box informing business page owners and administrators of where the feature is now located.
What do you think? Is this an unnecessary 'upgrade?' Does it make your job more difficult, or easier? Let us know in the comments!