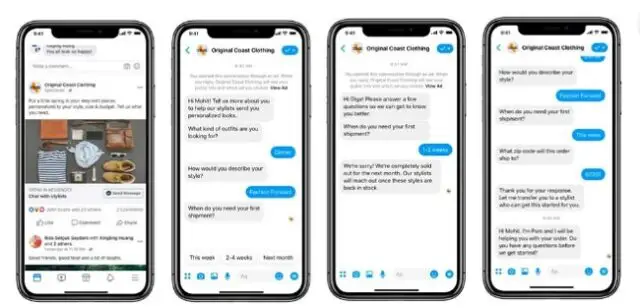 Facebook made some changes recently to help businesses and their customers have more valuable interactions.
The updates to the business messenger platform are designed to improve the experience for users and businesses alike.
"We constantly test and learn on how to improve Messenger," said Ted Helwick in the announcement from Facebook. "Simply put, we want to make it more seamless for people to reach out to businesses on Messenger in places where they're already looking to connect."
The new updates include:
A lead generation tool in Messenger. The template will allow businesses to create a consistent experience for consumers and allow businesses to communicate with prospects directly in Messenger. It will also be compatible with existing CRM tools, so you can track those leads.
Appointment booking, by integrating with a business' existing calendar. This feature will help you turn online conversations into in-store traffic or phone appointments.
Improved reporting, scheduled for release later this year, that will help you track conversions that take place within Messenger. Metrics matter!
In addition to the new updates, the 'Discover' tab in Messenger will be phased out.
Next year, Facebook will roll out additional features in Messenger, including streamlined Messenger tabs, sponsored tags and subscription tabs that will allow business marketers to further personalize the Messenger experience.
"We will put more investment into tools to connect people and businesses - including updates to m.me links, web plugins, various entry points across our family of apps, as well as ad products - that lead to Messenger," Helwick said. "Businesses will continue to appear in the app through the search feature and advertising surfaces, making it easy for people to connect with them."
Max Koziolek, co-founder and chief executive officer of Spectrm, a developer partner for Facebook Messenger, agreed.
"We firmly believe that Messenger's platform updates will only enable businesses to build long-lasting relationships with people while driving further growth," he said.
What do you think? Will these updates help? Let us know in the comments!